Elance, one of the freelance job boards, has established a partnership with eHealth to health insurance for small businesses and freelance professionals who work online. Is a retirement plan next?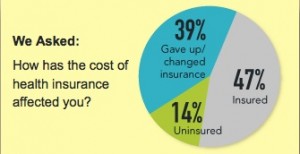 The partnership will provide the U.S. based Elance community with "free health insurance quotes, the ability to compare over 10,000 health insurance products from carriers nationwide and the option to purchase quality health insurance products through an online, paperless process. Members of the Elance community will also have access to a call center staffed with licensed health insurance agents for personal assistance."
A recent survey conducted by Elance revealed that a majority (51%) of respondents didn't know how healthcare reform was going to affect them, and 24% expressed concern that healthcare reform would have a negative impact on independent workers. Although cost was cited as the largest barrier for obtaining health insurance, the majority of survey respondents (85%) identified lack of quality information as a major challenge in selecting health insurance as an independent worker.
To visit Elance's healthcare resource, go to: http://www.elance.com/p/healthcare.html