Story Ideas
Looking for telecommuting, telework, work at home, scams, freelancing, home-based business, and work-life story ideas? Below are a few that come to mind. We can add lots of stories, prospective home-based interviewees, introductions to industry leaders, and relevant research from the 250+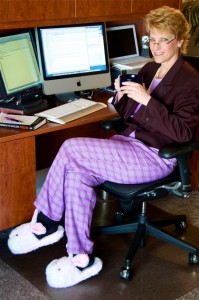 studies we've read to round them out.
Call 760-703-0377 if you're on deadline, or email us at media (at) undress4success (dot) com and give us an idea of your story line, we'll send you a dump of our thoughts.
Here are few thought starters:
Economy Down But oDesk Reports Freelancing Up 30%
Individuals Could Save Up to $17,000 and 2.5 Workweeks a Year By Working at Home
New Book Offer Hope For Burned Out Employees: Undress For Success—The Naked Truth About Making Money at Home

75% of Disabled Report Workplace Discrimination: Home-based Work Offers Fix
Don't Lay Them Off, Send Them Home
Baby-Boomer Brain Drain Threatens Workforce: Telecommuting Offers Solution
Flexible Work Options are Top Choice for Work/Life Balance
Flexible Work and Work at Home Options Appeal to Gen Y Workers
Telecommuting Is Cornerstone to Federal and Corporate Disaster Planning
Telecommuting Would Curb Traffic Deaths and Injuries
Telework Productivity 25% to 45% Higher
Half-Time Telecommuting Could Slash Dependency on Gulf Oil by 60%
Canadian Companies Could Save Billions by Telecommuting
Related photos, video, and audio are available on our Downloads Page.