If you're looking for a work at home job, take a careful look at customer service representative work. In many ways it's the perfect home-based job, offering flexible hours and performance-based pay. VIPDesk is one of the companies that's hiring, and we particularly like their "brand ambassadors" work-at-home model.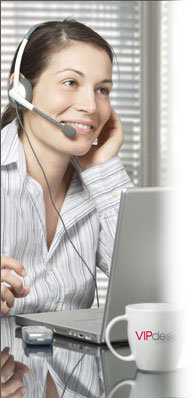 No, this isn't an ad; no we're not affiliated with the company, no we don't make any money from them. We learned about VIPDesk when we were doing research for Undress For Success, the book. They pioneered the 'home-shoring" model, reversing the trend that sent such jobs overseas. Yes, the good people in the Philippines, India, and elsewhere worked for lower wages, but companies soon found that their custsomers often had a hard time understanding them. But that's not necessarily the fault of people in other countries; companies have discovered that Yankees have a hard time undertsanding Southerners and vice versa too!
VIPdesk is doing an online seminar (webinar) on Monday September 14, 2009 at 2:00 p.m. ET. It'll be an hour long session that will intorduce you to the world of work-at-home customer service and inside sales opportunities. One of the things you'll discover, we suspect, is that 'brand ambassadors' are nothing like the 'telemarketer' image you have in mind.
VIPdesk offers virtual call center and concierge services to luxury and premium brand leaders in several industries including retail, travel, auto and financial services. If you're looking for a work-at-home job, it will be worth your time to attent this online session. Register at http://vipdesk.wufoo.com/forms/vipdesk-connect-brand-ambassador-info-session/.
Make no mistake, VIPDesk is looking for the cream of the crop, people who
enjoy talking on the phone, are outgoing and friendly
have ambition—people who like the ability to make more income if they work harder
use the Internet to conduct searches and chat with friends daily
believe in working green—working from a home office becuase it reduces carbon footprint and helps the environment
understand working from home office may require a time commitment on weekends, but don't mind because they can balance family, friends and work