NOTE: If you want to work at home, you must at least be able (and willing) to read. Dozens of people have left comments here indicating that they want to work from home in Egypt, but obviously haven't bothered to read this post. You can work from home in Egypt if you sign up with FlexJobs.com, vWorker.com, oDesk.com, Elance.com, or other job boards, as described in this post.
In a previous incarnation, back in the '80s, I trudged up to our System Development Director's office anticipating the usual power plays, political jousting, and red tape just to get a simple programming task accomplished. I wasn't disappointed.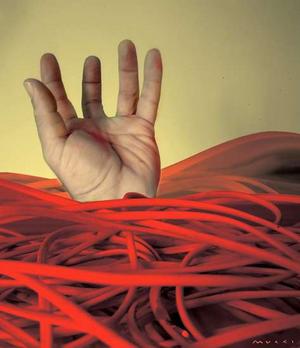 What should have taken a few minutes discussion and a couple of hours of work by one of our talented gurus turned into a month-long project with an official project leader and cast of thousands. More money, time and effort was spent creating the team and administering it (thus expanding the Director's empire) than was invested in getting the work done.
Last week we decided we needed some straightforward PHP and mySQL coding done to make it easy for you to see the results of our research on financial, petroleum and CO2 savings that are possible from telecommuting.
I posted a brief but detailed description of the project on eLance.com, specified that we wanted a bid in 48 hours, and stated that we needed the work done in a week. Within a few hours I receive a mockup that was even better than what I envisioned, there was some give and take by email, and a few days later the job was done. By a very professional programmer in Alexandria, Egypt. For $100.