If you work at home as a writer you haven't been overlooked by the folks that will happily take your money in exchange for nothing. And in this case we're talkin' big bucks.
You Can Use Our Formula to Make
ANY Decent Book a Bestseller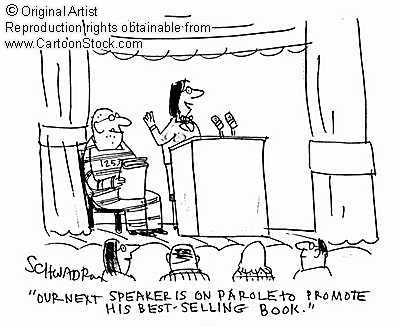 What's the scam? Why these guys will guarantee, guarantee mind you, that your book will be a best seller. (Huh, wonder why every book isn't a best seller, then?)
That Morning I Started Getting Calls From Publishers and Agents From All Over The World!
We invested an hour and a half on the phone (at our expense for the long-distance call) listening to drivel from Steve Harrison, Randy Gilbert and Peggy McColl. First they talked about how wonderful it would be if you had a best seller: the press would call you, people will look up to you, you'll feel more confident. (Huh, wonder why they didn't mention that having a best seller means you've made some money because you sold a lot of books?)
Let Me Tell You How This 'Average Guy' Did It
Then they swapped tales about how they positively got tears in their eyes as they watched their book climb, in a matter of hours, to #1 on Amazon. (Huh, no mention of USA Today, LA Times bestseller list? Only a passing mention of a book that later became a NY Times bestseller?)
$2,587 Is NOT Expensive If You Consider
It An Investment With a Greater Return
By the time they were done even we were saying to ourselves, "Well, it costs $2,587 dollars, but it comes with a money back guarantee, what do we have to lose?" But our baloney detector was chirping, and after a little googeling, it was went off full blast.
LAST CHANCE - Become a bestselling author by
going to our Secure Risk-Free Registration page
So what's going on here? Simple, you get a bunch of people to go buy your book on Amazon or Barnes & Noble's websites during the same short period. Those companies determine book ranking based on recent sales numbers, so briefly your book scoots to the top of the sales list. You have a number one Amazon best seller! Yaaaay!
But here's the catch, nobody gives a damn (except them and they hope you) about an Amazon best seller because you can work the system to create it instead of writing a good book. Our agent (Bob Diforio - 17 years at New American Library [Dutton\Penguin USA] from VP Sales to President and Publisher, Chairman and CEO) and four publishers said it doesn't mean a thing. Apparently it's possible to get on the Amazon best seller list by quickly selling as few as 100 books. No wonder they didn't guarantee you'll make a lot of money (especially if you buy those books yourself as they suggest, indirectly).
So can they help your book become an Amazon best seller? Probably? Will anyone care? Nope.
But we'll give 'em one thing, they got us salivating over the idea of writing a real best seller. The manuscript for Undress For Success: The Naked Truth About Making Money from Home is due to John Wiley in September to be on shelves by the first of the year. Then we'll see if we can make it to the best seller list thanks to our writing and legitimate promotion-not  working the system and then kidding ourselves that we'd done something worthwhile.
Remember if a proposition is too good to be true, it usually is.