If you work at home you probably spend your day in front of a computer screen, most of the time actually working. But what if you couldn't see?
During a recent visit to the eye doctor I was told I have a condition called wet macular degeneration, an eye ailment that can cause you to lose your vision, at worst, in a matter of days. As a writer (and voracious reader), photographer, pilot, husband, father, and grandfather there are a lot of reasons that wasn't good news.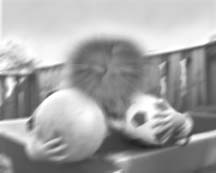 As recently as five years ago the discussion with the doctor would have been about support groups and coping mechanisms to use when the inevitable occurred.
Now there are two drugs, both produced by Genentech, that can not only stop the disease, but improve your vision with as little as one treatment in some cases. Avastin*, at $42 a dose, has unofficially been found more effective than FDA-approved Lucentis at $1,600 a dose (one of the most expensive drugs widely marketed).
Amazingly, in 2007, Genentech sent a letter to physicians indicating they would no longer sell Avastin for eye treatment.
But the ophthalmic community, led by the American Academy of Ophthalmology (AAO) and the American Society of Retinal Specialists (ASRS), fought back and managed to get Genentech, who begrudgingly agreed, to at least provide Avastin to compounding pharmacies if they wouldn't sell it themselves.
There's a study going on at Univ. of Pennsylvania with 1200 patients comparing the effectiveness of the two drugs. The first official results will be published in the Spring of 2011, but Avastin has already been shown superior, so it will probably-finally-get FDA approval, despite Genentech's resistance.
Close one eye and then the other while you look at the dot in the center of this chart. If the lines aren't straight, or if there are areas that look dull or grey make an appointment with an eye doctor immediately.
UPDATE: If the decide the drug treatment is that answer you'll faint (or your spouse will, in my case) when they explain that it's injected into your eye. But don't worry it is totally, completely painless. A little scary, of course, but I didn't even feel a tiny pinch, and the whole thing took maybe 10 minutes, including me all kinds of nervous questions. There was a little black blob floating around  in my lower peripheral vision, after words, and my eyes took a while to recover from being dilated (just like a regular eye exam). But no pain, discomfort, itch, nothing that night. By the next day the blob was gone, and still had no pain or discomfort whatsoever. Amazing!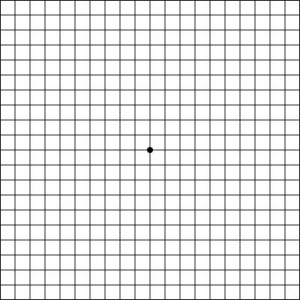 *Turns out Avastin is made almost next door in Oceanside CA, 90,000 liters at a time.