As recently as the early 90's the home office meant a company's headquarters. If you worked in an office at home people figured you'd been laid off, or if they were charitable they assumed you were a freelancer.
Now more about 30 million Americans are working from home at least part time, and 70% of those people have a home office or designated workstations in their homes. In fact, home offices ranked as the fourth most important feature in a new upscale home according to a recent survey by the National Association of Home Builders.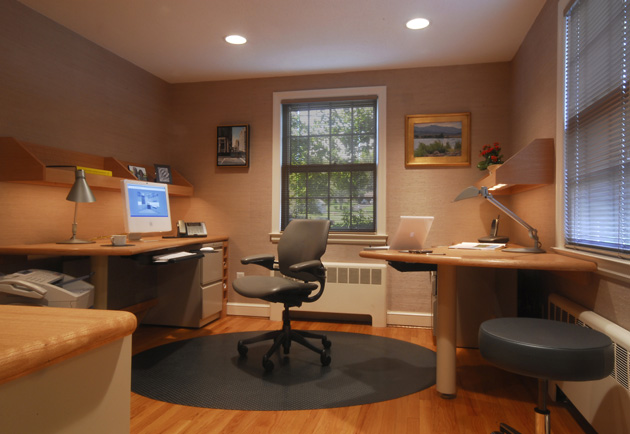 New technologies such as wifi, teleconferencing software, and powerful personal computers have helped enable the telecommuting and work at home trend, but a host of design options are part of the reason for the change too.
It used to be that your choice was cheap (but not necessarily inexpensive) modular office furniture from Staples or a huge desk from a high-end furniture store. Now cabinet makers are creating custom built home office spaces, and many interior designers are willing to take on one room at a time.
At the high end, men in particular, are creating "testosterone rooms" with touches of grandeur and big plasma screen for watching football games with buddies. For a mere $20,000 Hooker Furniture will sell you a wrap around the room home office set with a built-in look including a matching desk and chair, a computer hutch, a bookcase, a credenza, an entertainment center large enough for a 60-inch flat-screen television, and a bar cabinet.
For some reason women never had a place to work and had to use the end of the kitchen counter or a small desk in the guest bedroom, but not any more. Some women have added a room devote entirely to their work, away from areas used by the kids.
A key to making a space suitable for work is adequate storage. Something as simple as a filing cabinet where you can keep your work will make a real difference in productivity. Office Depot knows more than half its customers are women, and that the number of businesses owned by women are growing twice as fast as others, so they've added several lines of furniture designed specifically for women.
Reducing visual chaos in an office is a key to keeping a focused, clear mind. But the explosion of digital technology makes it difficult to create comfortable, uncluttered work spaces, particularly if your job involves the use of multiple devices. A friend and his wife work from home as animators and designers so they have computers, and monitors, and cameras, and light tables, but they've designed their office so they can reach almost everything without getting up. Wire troughs and cable runs behind the furniture keep things tidy. The best part of the room is not what you see but what you don't.
Ad:
Come check out our color printers for your home office. You have come to the right place for brother color laser printer and more. Our brother label printers are very resourceful for office organization.