Posted by Kate Lister on 19th March 2008
And, now, another chapter in our continuing saga series about how to find work-at-home, home-based businesses, and freelance opportunities. But this is no ordinary post. We liked what we saw at Indeed.com so much we've added the list of jobs they offer right here on our site. With the help of our custom search string, our work-at-home job search page now delivers just home-based opportunities. And you can further customize it to the exact kind of home-based job that fits your skills.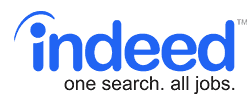 Indeed.com hit the information highway in 2005. They've since emerged as the fourth largest job board on the web, and were named one of the Top 10 best sites for 2007 by Time Magazine. Partly owned by the New York Times, they post over a million jobs each week, and they keep their links fresh by purging job posts every thirty days. Over five million people visit Indeed.com every month.
Indeed.com is a so-called 'scraper site'; in other words, they scrape jobs from thousands of job boards, career sites, and newspapers including the huge job boards we've covered in this Finding Work At Home series: Career Builder, Monster, and YahooHotJobs. That means less work for you as you search for the perfect work-at-home job. Of course, it also means that some of the job links will be from low-life companies out to scam you. But that's where our Job Search page comes in. We've developed a way to weed out the majority of the junk so you don't have dig through a haystack to find your needle.
If you're wondering how Indeed makes money, they encourage employers to sponsor their posts to move them higher in the listings. Job searchers, however, pay nothing to use the site. If you're wondering if we make money by showing you thier jobs, the answer is 'yes'. They pass us a little cash for everyone who signs up for a free account from our job search page, but:
a) it costs you nothing;

b) you could go directly to them and we wouldn't earn a dime;

c) like all things you'll find on this web site, we don't endorse anyone we don't believe in;

d) unlike the huge majority of work-at-home web sites, we don't pontificate about how to avoid scams on one hand, and feature Google ads that direct you to them on the other so we can pocket a few bucks from leading you astray; and

e) we told you so you know it's legitimate business relationship;

f) we gotta eat.
The Indeed.com interface looks like a Google or Yahoo search page, so you don't need to know anything special to do a search. They also offer full Boolean search if you know how to use it, which allows you (and us) to do a great deal of job search customization. For example, if you're looking for a telecommuting job in the healthcare or pharmaceutical field but don't want to work in sales, and you don't want to work for XYZ Corp, search on the phrase:
(telecommuting OR telecommute) AND (healthcare OR pharmaceutical) NOT sales NOT "xyz corp"
Click on any resulting job and use Indeed.com's Refinement Options to focus on a certain company, job title, type of employer, or full-time versus part-time work. If you want to eliminate jobs based on any of the refinement criteria, just add the words to your keyword search following another NOT command (e.g. NOT Poughkeepsie). Alternatively, go to the Advance Search page and enter what you want in the boxes provided.
Indeeds's site also offers several unique and useful features. For example, type "SEO" (search engine optimization) in the search box and then click on Trends and you'll see that SEO job posts have grown by 200% over the past 2 years. Use the Salary button and you'll see that the average salary for a job that includes the term is $55,000 nationwide and $68,000 if your optimizing in New York. Want to know what it's like to work at Kinkos? Type it in the search box and click on Forums and you'll find out from people who work there.
Job alerts can be delivered via RSS feeds, to a your MyYahoo account, or by installing any one of a number of plugins from their Tools menu. Google click-through ads clutter up the landscape,;but hey, they help make the service free to you, so deal with it.
Future posts in this series will include:
Jobster.com
SimplyHired.com
MomCorps.com
DreamJobs.com
Tjobs.com
Dice.com
IT Toolbox.com
Cybercoders.com
JournalismJobs.com
Jobs.Problogger.net
________________________________
Home-based business owners stay tuned for posts about how to make the most of these and other project and freelance job boards:
Elance.com
RentaCoder.com
Guru.com
Also don't forget every Friday is our Work At Home Scambusting series. More about that here.
Don't want to miss out on the latest Work At Home advice?
Add us to your favorite RSS feed.
Posted in Find Work At Home, Finding Work Series, Telework Sources, Work At Home, Work From Home Jobs | 1 Comment »