Rainier, Oregon
Spirited City on the Mighty Columbia
Located on the banks of the Columbia River, Rainier, OR is halfway between Portland, OR and the Pacific Coast.

Rainier is a unique little town that just happens to be right in the middle of a triangle with the Pacific Coast, Portland, Oregon, and Seattle, Washington at the three points.  Just 50 miles to Portland and the Coast and only 130 miles to Seattle you are in the middle of it all.
Within Rainier you have an assortment of restaurants. The Ol'pastime neighborhood bar and grill where the locals get together to cuss and discuss and El Tapatio, one of the finest Mexican restaurants in the North West both of which are right on the banks of the Columbia.  There is also the Cornerstone Café for that down home cooking and if you want a great burger and a beer while watching your favorite sporting event there is the Evergreen Tavern.  But if you aren't a local you might just miss the best crab cakes in this part of the world served up fresh at the Interstate Tavern.
Recreation in Rainier is everywhere.  From boating, kayaking, kite boarding, sailing, biking, and hiking you will find it all in this little town.  There is also one of the nicest parks with tennis, a ballpark, hoops, skateboarding and a new river trail for those sunrise and sunset walks along the beach.  If you are a sport fisherman you will also find the best Salmon, Steelhead, and Sturgeon fishing to be found.  Don't miss the annual Eagles Lodge Salmon Derby.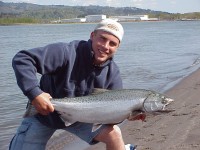 Access to those teleworker necessities;
Internet service providers,
Qwest DSL 7Mbps downstream / 896 Kbps upstream
Located across the river is Longview, WA, a town of approximately 40,000.  This is where you will find all the major needs from a superior hospital and cancer center, all the major grocery stores and big box outlets such has Lowes, Home Depot, Super Wal-Mart, and Costco is on the way.
Transportation;
Portland International Airport is just 45 minutes away from Rainier.
Amtrak has a station in Kelso allowing for a relaxing ride North to Seattle for an afternoon at the Pike Place Market, a Seahawks or Mariners ball game or on further North to Vancouver, British Columbia.  And of course if you just want to take a slow cruise past Rainer and maybe stop in for a beverage you could book a trip on the Queen of the West.