Looking for a new home in a community that's friendly to telework? You've come to the right place . . . or at least it will be soon.
A couple days ago, out of cyberspace, we received this email message:
"I found your site through telework.org.uk when asking for a similar site in the US. I am a software consultant who works from home and am looking for a place to advertise the very teleworker friendly community of Rainier, Oregon. Would you be interested in starting a section on such communities?"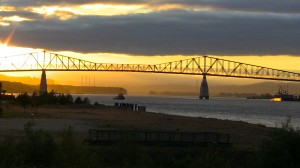 Heck yes, we said—if you'll accept the job as Communities Editor (fancy title in leu of fancy salary).
Heck yes, he said.
So we'll let Scott introduce himself:
I was a road warrior doing about 130 days a year on the road and living in Baltimore.  My wife works for EDS/HP and does project management and is a full time teleworker. When our son graduated from high school my wife wanted to move close to family considering my time on the road and the empty house during the week due to my road time and my only requirement for where I lived was close to a regional airport and high speed internet.  This prompted me to look outside that commuting radius of Portland Oregon for a place on the water with low property prices and hight speed internet, enter Rainier, OR.  Shortly after moving to Rainier I was diagnosed with cancer and the following year meant no road time.  Fortunately my management worked with me and found work that allowed me to keep my job in a remote status.  Things worked out well enough that when I was cancer free it developed into a full time "remote" position.   But it does look like the work done will create several more full time remote positions within our team in the future.
An inspirational story and precisely the kind of situation that allows individuals, companies, and communities to benefit from telecommuting.
Scott will have the first entry for our new Telework Communities page up in the next few days. Sign up for the RSS feed or come back and visit and we'll have the straight poop on telework friendly communities for you.