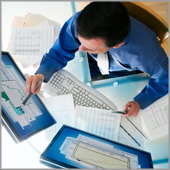 People who found work through Elance earned more than $27 million in just the last three months of 2010 according to their  Q4 2010 Online Employment Report. Elance also reported that  the fourth quarter of 2010 set a record for online employment in IT, Creative, Marketing and Operations categories, supporting our analysis of other sources that suggests telework  will continue to grow as a corporate strategy in 2011.
Businesses posted more than 105,000 jobs on Elance in Q4 2010, a 38% increase over the same quarter last  year. And they spent 11% more quarter-over-quarter and 44% more than the year before for the same period.
Some other interesting details in the report:
Demand for experts in mobile technologies grew  15%
iPhone  programmer demand grew 10%
Android  developer demand grew  20%
Demand for WordPress experts rose an impressive 15%
'PHP programmers' is the only higher category
content management systems has moved  into the top three skills in demand by businesses
Demand for Online Marketing up 74%  year-over-year
Social Media Marketing grew  20%
New York City remains #1 city based on contractor earnings
Los Angeles moved to #2 in hiring behind NYC
But Austin jumped to #2 in earning
So if you want a job as a freelancer what's in demand?