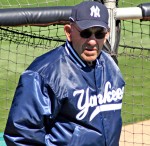 Today many people work very differently than they did just five or 10 years ago. Work, and the workplace,  will  continue to change, too–whether we want it to or not.
Given the uncertainties in the economy and employment, it's doubly important to look toward the horizon, even when surrounded in fog. Make yourself a plan so you can achieve what you want. As baseball coach Yogi Berra put it, "if you don't know where you're going, you might end up someplace else."
Here are 4 quick tips to help you on your way:
Make your goals as specific as possible
Break you goal down into mini-goals that are achievable
Make sure you know what's essential to make your goals achievable
Get started!
Yogi Berra was a catcher before he was a coach. Even he found a way to work at home.